Subscribe & Save 20%
Best Selling Pouches
5 Items
Our best-selling baby food pouches are the perfect choice for mindful parents seeking convenient and nourishing options for their little ones. Carefully curated with thoughtfully blended flavors, our baby puree pouches help cultivate your baby's developing taste preferences. Free from sugary fruits, grains, eggs, nuts, dairy, gluten, added sugars, preservatives, artificial sweeteners, GMOs, and additives, our pouches are a commitment to your child's well-being. Whether you're at home or on the go, our baby puree pouches transform feeding into an exciting palate-expanding experience! Our pouch design ensures easy storage and hassle-free enjoyment, while the variety of nutrient-dense flavors guarantees a yummy culinary journey for your little one. Enhance your parenting experience with our premium selection of top-selling puree pouches for baby. With each gentle squeeze, you're not only treating your baby to a flavorful puree but also fostering the foundation for a lifetime of healthy eating habits. Embrace our baby food pouches – where nutrition, convenience, and unbeatable flavor nurture your baby's potential in every bite!
We haven't found a flavor that we dislike! The variety packs are nice so we can try the different pouches without committing to an 8 pack of just one flavor.
Brianna B. verified customer
We absolutely love these. The ingredients are wholesome, nutrient dense, and provide variety you can't find in my grocery store . Mama is happy, but baby is happier, cause he's getting to devour all this food.
Melissa F. verified customer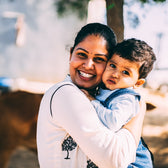 This food is simply amazing! My little guy is so picky and he has loved every single package! The ingredients are so pure, organic and simple!
Melissa N. verified customer