Organic Savory Veggies Baby Food Pouches
Subscribe & Save 20%
Organic Savory Veggies Baby Food Pouches
9 Items
Serenity Kids nutrient-dense veggie pouched purees are packed with protein, vitamins, minerals, and antioxidants for growing babies and toddlers. All of our baby food is low in sugar, high in healthy fats, and free from sugary fruits, grains, eggs, nuts, dairy, gluten, added sugars, preservatives, artificial sweeteners, GMOs, and additives. Our vegetable puree pouches are made from high-quality farm-to-high-chair ingredients because #EveryBiteCounts®. Designed with simple ingredients for early flavor introductions, whatever your dietary preferences are, we have a pouch for your family's lifestyle. Serenity Kids veggie purees are great for those living a plant-based lifestyle or looking for vegan baby food (or meat-eaters, too!) We want the best for your babe(s)—and ours. Every colorful veggie blended into our squeezable purees are Non-GMO and certified USDA Organic, grown on healthy, nutrient-rich soil. Our grab-n-go pouches were designed to make parenthood easier—each recipe was once dreamt up in our own home kitchen to make baby food yummy, nutritious, and fun. We chose recyclable pouches to make toddler meal prep easier for moms, dads, and caretakers. Our baby food is just like homemade, without having to actually make it yourself—made with ingredients you can trust.
We haven't found a flavor that we dislike! The variety packs are nice so we can try the different pouches without committing to an 8 pack of just one flavor.
Brianna B. verified customer
We absolutely love these. The ingredients are wholesome, nutrient dense, and provide variety you can't find in my grocery store . Mama is happy, but baby is happier, cause he's getting to devour all this food.
Melissa F. verified customer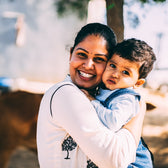 This food is simply amazing! My little guy is so picky and he has loved every single package! The ingredients are so pure, organic and simple!
Melissa N. verified customer