Subscribe & Save 20%
Dairy-Free Smoothies
5 Items
Dairy-Free + Protein Smoothies – a delightful selection of nourishing and delicious blends designed to support your little ones growth and development. Crafted with love and attention to detail, this collection offers a range of nutrient-dense smoothies that are perfect for babies and toddlers. Each dairy-free + protein smoothie is made with carefully selected organic vegetables, ensuring that your child receives a variety of essential vitamins and minerals. We take pride in using only high-quality ingredients, free from any artificial additives or preservatives, ensuring that every sip is pure, natural goodness. With flavors like Beet & Carrot, Pumpkin Spice, Sweet Potato Spice, and Pumpkin Spice, these smoothie pouches are not only nutritious but also appealing to tiny taste buds. They are thoughtfully blended to achieve the perfect texture for easy consumption, making them an ideal option for on-the-go snacking or as a complement to a balanced meal. We understand the importance of providing wholesome, organic options for your little ones early years. With the Dairy-Free +Protein Smoothie, we have created a delightful and convenient way to introduce a variety of flavors and nutrients into your little one's diet.
We haven't found a flavor that we dislike! The variety packs are nice so we can try the different pouches without committing to an 8 pack of just one flavor.
Brianna B. verified customer
We absolutely love these. The ingredients are wholesome, nutrient dense, and provide variety you can't find in my grocery store . Mama is happy, but baby is happier, cause he's getting to devour all this food.
Melissa F. verified customer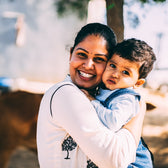 This food is simply amazing! My little guy is so picky and he has loved every single package! The ingredients are so pure, organic and simple!
Melissa N. verified customer