At Serenity Kids, we believe our high-quality baby food has to start with farmers. Healthy food comes from healthy animals which come from healthy ecosystems. From our beyond organic vegetables to grass-fed and pasture-raised meats, we seek out only the finest small American family farms in an effort to create a product that truly contains the healthiest stuff on Earth.
Stahlbush Farms
100% Organic Vegetables
Stahlbush Island Farms provides Serenity Kids with organic vegetables from its certified sustainable family farm in Oregon's Willamette Valley. In addition to growing nutrient-dense and delicious organic produce, Stahlbush uses innovative techniques to enhance soil health, conserve water, and promote biodiversity on the farm. Stahlbush also generates electricity from their fruit and vegetable by-product using their own biogas plant. By processing things like corn husks and cobs, they are able to power their processing plant, generate steam for their boilers, and heat water for sanitation. At Stahlbush, they believe that there is no such thing as waste, only underutilized resources. For more information, click here to check out their website!
Roam Ranch
100% Grass Fed & Finished Bison
Katie and Taylor Collins started Roam Ranch with the goal of raising nourishing food that was good for both people and the planet. They believe so strongly in the power of regenerative agriculture that they transformed land that was depleted from commercial practices into a thriving and biodiverse ranch that supplies Serenity Kids with responsibly-raised grass-fed, grass-finished bison. Katie and Taylor are inspired by the resilience and raw power of bison, driven by the desire to connect their daughter Scout with nature, and fulfilled by knowing that they are producing the best food on the planet, for the planet. "If we want to sustain our civilization, nourish our families, and enjoy the bounties of nature," Taylor says, "we must transition our food production system to a regenerative model. It has the potential to heal land, produce nourishing food, combat climate change, and create wildlife habitat for generations to come". For more information, click here to check out their website!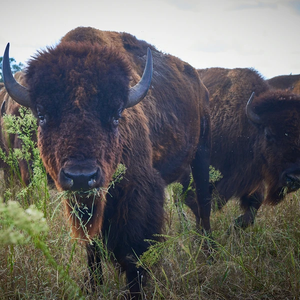 Diestel Turkey Ranch
100% Pasture Raised Turkey
In the heart of Northern California, you'll find Sonora, a landscape scattered with rolling
foothills, pines, oaks, and some darn tasty pasture-raised turkeys. It's here that the Diestel Family Ranch has been run for over 70 years. Now under its 4th generation of family management, the ranch is full of fresh ideas, renewed passion, and regenerative practices, all while continuing to honor the Diestel family's philosophy of raising food they are proud to eat themselves and proud to share with you and your little ones. Diestel turkeys are raised in a wholesome, nourishing environment and fed an all-vegetarian feed blend without fillers, growth stimulants, or antibiotics. Everything is produced according to strict animal welfare & environmental standards. From Diestel Family Ranch's commitment to regenerative agriculture—to the natural and organic cleaners used—to pioneering innovative new processes, the team at Diestel works to deliver the best bird money can buy. No compromises, no question, ever. Learn more about Diestel Turkey Ranch here.
Alexandre Family Farm
Organic Grass Fed A2 Whole Milk

In the upper northwest of California where the redwoods meet the Pacific ocean, you'll find Alexandre Family Farm, an organic dairy farm and America's first certified regenerative dairy! You'll find their regenerative organic A2 whole milk in our A2 Whole Milk Toddler Formula. Six generations of family farmers helped create the core of what Alexandre Family Farm was and still is today; Blake and Stephanie Alexandre (4th generation dairy farmers) and their five children are strong proponents of holistic organic farm practices, nutritional education, and environmental stewardship and keeping the culture in agriculture! "The joy I get in knowing we are raising our animals in the best possible environment, the best soils, the best climate is the most fulfilling aspect of raising the animals," says Stephanie -- "we are their caretakers and our animals graze in a serene ecosystem that provides wonderful food -- it fulfills us and them."
Click here to learn about our formula sourcing, more about Alexandre Family Farm, and why we love them and their regenerative farming so much!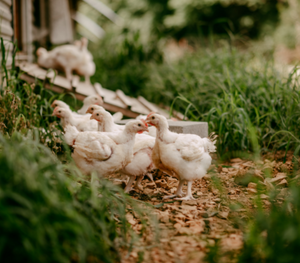 Farmer Focus
100% Free Range Chicken
Founded by Corwin Heatwole, a sixth-generation farmer, Farmer Focus is on a mission to promote and protect generational family farming by partnering with independent family farmers to humanely raise organic chicken. "Our farmers genuinely care and are invested in the welfare of their birds," says Heatwole. "That translates into a high quality of life for our birds, a more sustainable farm for our farmers, and a more delicious chicken for you." Farmer Focus' care for animals goes beyond certified Organic feed; all of the farms are also certified humane. Their chickens are free-range, which means they get a lot of natural light, outdoor pasture access with lush vegetation, and shade structures to keep them protected while they forage and play. Their access areas and the immediate area around them are pesticide and herbicide-free, which makes for more land that can flourish and grow, welcoming pollinators and other critters to contribute to the ecosystem and keep the soil rich and the water clean. Regenerative agriculture is one way Farmer Focus ensures that their farms can be passed down to future generations. The high standards create a better lifestyle for the chickens and farmers alike. Learn more about Farmer Focus, how to support independent farmers, and change the future of farming here.
Grimmway Veggies
100% Organic Vegetables

In the sunny central valley of California, farming is one of the predominant industries. Meet Grimmway Farms (who trace their roots to a small produce stand opened originally by the Grim brothers). Today, Grimmway is the world's largest producer of carrots, and we're so lucky they grow the organic vegetables (all-year-round!) found in our pouch purees. Grimmway Farms acquired Cal-Organic farms in 2001; at that time, there was not really much of a market for organic produce. However, the Grimmway founders saw the potential of growing organic produce to increase availability and preserve the land with a more sustainable approach to farming. Regenerative agriculture and organic produce lie at the heart of their business' mission and values. Beyond treating the earth and their products with TLC, Grimmway treats their employees like family and creates a sense of community in the local area. "There is a focus at all levels on improving the lives of employees and the community at large and it evident in the manner in which business is conducted.," says Gina Erb, Grimmway Veggies Technical Sales Manager. We're proud to partner with Grimmway Veggies due to their sustainability practices, regenerative farming, organic products, and commitment and dedication to quality. For more information, click here to check out their website!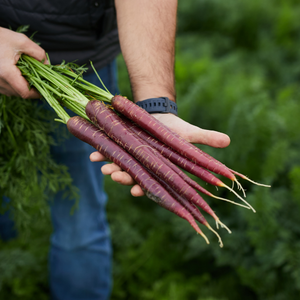 E&E Foods
100% Wild Caught Salmon
With an HQ in the Evergreen State and processing facilities in The Last Frontier, E&E Meats provides Serenity Kids and its tiniest foodies with wild, seasonally caught, Alaskan salmon (mostly Sockeye, Coho, and Keta). E&E Meats began as a wholesale meat provider, founded in 1932 by Edith and Edward Banchero on Rainier Avenue in South Seattle; for the past 90 years, E&E has grown to be a vertically integrated seafood company, specializing in sourcing wild caught Alaskan finfish. 
Fun fact: their VP of Value Added Sales has been in the fish business since high school, starting his career at a local fish market in Seattle where he worked through high school and college; his first job in the wholesale seafood business started the year after he graduated. He says the seafood industry is "a great industry; never a dull moment! Couldn't imagine being anywhere else!" E&E prides itself on a great team, a beautiful product that they personally control all the way from the source, and a growth oriented mindset which makes E&E a fun environment to be a part of. 
Your babies and toddlers are in great hands with seafood sourced from E&E, and we are so proud to have them as a partner. Learn more about E&E here
Ferndale Market
100% Pasture Raised Turkey
About 45 minutes south of the Twin Cities, you'll find Ferndale Market, our pasture-raised turkey farm. "Dale Peterson, our grandfather, started our farm in 1939. He had studied poultry science in college and was looking for a location that was ideally suited for raising turkeys outdoors. He found that land in the rolling hills of the Little Cannon River Valley. Shortly after, Dale married Fern, and together they fostered our family farm, which still proudly bears their name," says Katie Peterson, Ferndale Market's Marketing and Communications Manager (and third generation) at Ferndale Market. 80+ years later, the faces on the farm may have changed (the farm is now managed by second and third generations), but a lot looks the same—the turkeys are still raised free-range and without the use of antibiotics.
The turkeys at Ferndale Market have the life; once the birds are old enough to move outdoors, they spend their days exploring and taking in the fresh air and are moved weekly to fresh green grass, along with their shelters, water, and feed. "We believe that our model is the best one for our turkeys, our land, and our farm staff. We are proud to continue growing our turkeys outdoors, long after most folks have moved away from free-ranging poultry; we're fortunate to have a farm that's well suited for pasturing our birds," says Peterson; "agriculture has become so consolidated that it's harder than ever for small family farms to survive…knowing where our food comes from and supporting independent farmers is important to us."
A couple fun facts: 1) Ferndale Market takes pride in hosting a big farm tour day each year in July where guests at the farm can go on hayrides, learn about the farm's history, and get a behind the scenes look at their entire operation. 2) John (third-generation farmer, general manager, and Katie's brother) has been writing a monthly From Your Farmer update where you can learn all about the farm's happenings. Get social with Ferndale Market here.
Thousand Hills
100% Grass Fed Beef
Since founding in 2003, Thousand Hills has been focused on one mission: to nourish the soil, the plants, cattle, and people by holistically grazing cattle for their lifetime. What began as a passion to simply share the nutritional benefits of Lifetime Grazed 100% Grass Fed Beef with more people has evolved into a full embrace of regenerative agriculture—with its many critical benefits to people and planet. Found amongst the rolling hills of Clearwater, MN, Thousand Hills is is proudly distributed in all 50 states, now sources cattle from an additional 50 hand-selected like-minded U.S. family farms, and is one of 13 North American Savory Institute Hubs—achieved by demonstrating leading holistic, regenerative grazing practices. "We began with 120 acres from our home farm and have now expanded to over 1,000 acres affecting 13 different small farm landowners," says Thousand Hills Chief Renegage/Owner, Matt Maier. Read more about Thousand Hills here.
Prospera Foods
100% Organic Cassava Flour
Prospera Foods is pioneering a business model that puts people and planet first. Born out of global non-profit Opportunity International, Prospera Foods is the sales arm of this incredible organization that provides community economic development programs and training to empower people living in poverty to transform their lives. Our 100% USDA Organic Cassava Flour is World Fair Trade Organization Certified and comes from a network of over 1100 farms in the Pacific South of Nicaragua. Fair Trade Certified means that the product is made in compliance with the 10 Principles of Fair Trade which covers human and labour rights. In partnering with Prospera Foods and their parent organization, we are able to help create opportunities for entrepreneurs to build their businesses, children to go to school, farmers to feed their communities, and families to end the cycle of generational poverty. "Prospera Foods believes in using the power of the supply chain to alleviate poverty. By partnering with companies like Serenity Kids, we're able to empower and provide economic opportunities to small-holder farmers," says Prospera CEO, David Kone.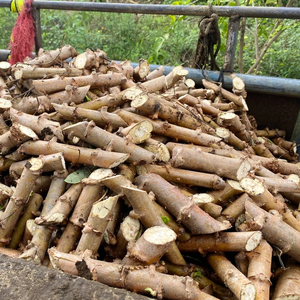 Tradin Organic
100% organic coconut cream
Since the 1980's, Tradin Organic's agriculture experts search the world for the most natural, organic ingredients. A great example is our USDA organic and Fairtrade certified coconut cream from Sri Lanka, straight from the country's "coconut triangle". A few hundred farmers grow these coconuts with care, often alongside organic mango, banana, cashew, jackfruit and pepper. We promote this type of mixed cultivation, as the high biodiversity helps keep the ecosystem balanced and the soil and plants healthy. That way, there's no need for any chemical or synthetic fertilizers or pesticides. Shiva Chiramsi, leading our sourcing in Asia: "the communities we work with in Sri Lanka have a strong connection to nature, and to each other. Most of the farms are surrounded by nature, which makes them quite remote. From the two factories where the coconuts are collected and processed, various community support initiatives are set up. These range from offering unlimited drinking water, distributing seedlings and plants, donating food and school supplies and organizing medical projects like check-ups and blood donation." Tradin Organic's mission is to empower farming communities to ensure future foodies can also enjoy nature's finest ingredients!