Subscribe & Save 20%
Serenity Kids Baby Food
41 Items
Serenity Kids Baby Food products are made from high-quality, farm-to-high-chair ingredients for your high standards—and ours—because #EveryBiteCounts®. Whether you're shopping for nutrient-dense baby food pouch purees, grain-free baby puffs, and/or easy-to-digest A2 toddler formula, we've got you covered. Our nutrient-dense pouched purees are packed with protein, vitamins, and minerals; low in sugar, high in healthy fats, and free from sugary fruits, each recipe was dreamt up in our kitchen to make homemade baby food and toddler meal prep easier on parents. Our high-quality meats are sourced from American farms who prioritize regenerative agriculture practices and each and every colorful veggie is Non-GMO and certified USDA Organic, grown on American soil. Our allergy-friendly grab-n-go puffs make snack time a breeze; free from grains, rice, gluten, soy, corn, nuts, industrial seed oils, sweeteners, and artificial preservatives/colors/flavors. *Chef's kiss* Our Grass-Fed A2 Whole Milk formula is nutrient-rich, easy to digest, and free from industrial seed oils, soy, corn/rice syrup, gluten, GMOs, grains, and synthetic folic acid. Created upon EU standards, it's one of the cleanest formulas on the market. Designed with sensitive tummies in mind, it contains prebiotics (HMOs, GOS, FOS), nucleotides, 4g protein, and grass-fed organic A2 whole milk.
We haven't found a flavor that we dislike! The variety packs are nice so we can try the different pouches without committing to an 8 pack of just one flavor.
Brianna B. verified customer
We absolutely love these. The ingredients are wholesome, nutrient dense, and provide variety you can't find in my grocery store . Mama is happy, but baby is happier, cause he's getting to devour all this food.
Melissa F. verified customer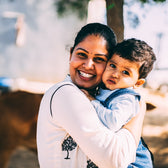 This food is simply amazing! My little guy is so picky and he has loved every single package! The ingredients are so pure, organic and simple!
Melissa N. verified customer