Subscribe & Save 20%
Baby Food Variety Pack
10 Items
.Our colorful and nutritious baby food variety packs were thoughtfully designed so you don't have to choose between anything—sampling all.the.things is encouraged here! Whether you're looking to have your little one try one of our best-selling veggie purees, any of our assorted ethically sourced meat pouches, cozy up with our nourishing bone broth blends, or snack on our best-selling grain-free baby puffs flavors, we've got variety baby food packs for every mood (and every taste bud)! ABOUT OUR BABY FOOD POUCHES: Serenity Kids nutrient-dense pouched purees are packed with protein, vitamins, minerals, and antioxidants for growing babies and toddlers. ABOUT OUR PUFFS: Our allergy-friendly, grain-free grab-n-go puffs make babies' and toddlers' snack time a breeze. Whether you're packing for a trip, assembling a daycare bag, headed out on a hike, running an errand, or hanging out at home, our puffs are great anytime, anywhere. Serenity Kids variety packs are made from high-quality farm-to-high-chair ingredients because #EveryBiteCounts®. All of our products are *chef's kiss* because they are low in sugar, high in healthy fats, and free from grains, rice, gluten, soy, corn, nuts, industrial seed oils, sweeteners, and artificial preservatives/colors/flavors.
We haven't found a flavor that we dislike! The variety packs are nice so we can try the different pouches without committing to an 8 pack of just one flavor.
Brianna B. verified customer
We absolutely love these. The ingredients are wholesome, nutrient dense, and provide variety you can't find in my grocery store . Mama is happy, but baby is happier, cause he's getting to devour all this food.
Melissa F. verified customer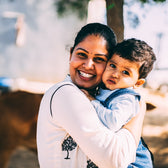 This food is simply amazing! My little guy is so picky and he has loved every single package! The ingredients are so pure, organic and simple!
Melissa N. verified customer